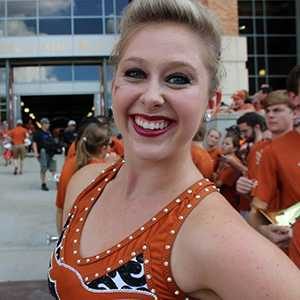 Ashley Swope was born with a baton in her hand and has been twirling and dancing most of her life. She
was a member of the Michelle Latimer Dance Company, the Osborn Twirlers, Colorado Twirls and the
Karen Ogden Studios twirlers, based in Sulphur, Louisiana. She is an 11-time State Champion and 7-time
National Champion in Solo, Strut, 2-Baton and Dance Twirl. She competed with athletes from around the
world at the 2011 International Cup in Jacksonville, Florida and the 2015 International Cup in Almere,
The Netherlands. Ashley was the feature twirler at Cherry Creek High School and at the University of
Texas in Austin, where she performed for 101,000 fans with the UT Longhorn Band.
In 2016, Ashley graduated with honors from the University of Texas with a bachelor's degree in Applied
Learning and Development. Since then, she has been a first grade teacher at High Plains Elementary in
Greenwood Village, Colo. She earned her master's degree in Culturally and Linguistically Diverse
Education from the University of Northern Colorado in 2021.
Ashley loves sharing her passion for the sport of baton twirling with our Colorado Twirls athletes and
supporting them as they pursue their dreams of competitive and high school / collegiate twirling. She is
the Colorado Twirls PreTrials team coach and the awards coordinator for the United States Twirling
Association (USTA).